General
What is Slader?
Here, take the trip.
How do I activate my account?
Click the link in the email you receive after you register. If you don't see an email, please check your Spam folder. If you still did not receive the email, please double check that you registered with the correct email address. Past that, I don't know what to say beyond that you really don't have to register for Slader.
What are solutions?
Our Solutions product offers millions of user-generated solutions in thousands of the most popular textbooks.
What is the nature of human existence?
You are simply an orb of energy that possesses a consciousness that transcends your physical being and lives for perpetuity, ever expanding.
What is Q&A?
Q&A allows users to ask questions and provide answers for problems and concepts.
What is normal?
Culture dictates what normative behavior is. And culture is inescapable. It's even in these words that I type. But try this: close your eyes. For a moment, ignore the past, ignore the future, feel where you are right now. Quiet the mind. Pursue your truth. And make that your normal.
Subscriptions
I thought everything on Slader was free!
All high school textbook solutions on Slader are free for all students. So is Slader Q&A.
As of 2020, unlimited textbook solutions in upper level, college textbooks are only available to users who subscribe to Slader College+. (You can still get 5 free solutions per book every month without a subscription) We understand how stressful school can be, and we know that you've got bills to pay too. We are committed to ensuring Slader is more affordable than the alternatives. And we will work hard every day to make sure your investment in our product is worth it. We appreciate your support.
What does the Slader College+ subscription get me?
The College+ subscription will give you unrestricted access to a large library of upper-level College content and solutions as well as an ad-lite experience for distraction-free studying.
This book used to be free. Why do I have to pay now?
Slader includes hundreds of thousands of expert solutions in thousands of upper level books. As of 2020, some of these books are now labeled as Slader College+. In order to continue producing upper-level solutions, we ask that you subscribe to Slader College+. This will give you unlimited access to all premium solutions, and help to ensure we can continue to produce high-quality solutions for your hardest classes.
I'm already paying for premium. Why can't I access this book?
Our premium subscription is different from our new Slader College+ subscription. Premium subscriptions provide you with an ad-lite experience, whereas the Slader College+ subscription provides you with this experience AND unrestricted access to all of our upper-level College solutions.
How can I cancel my memberships?
Your subscriptions are managed separately from your account, so deactivating your account will not deactivate your monthly payments.
If you subscribed via our iOS app, you can cancel on your iOS device by going to Settings, iTunes & App Store, tap the button at the top that shows your Apple ID, click View Apple ID, then click Manage under Subscriptions.
If you subscribed through the website with PayPal, you can login to your PayPal account and go to the Recurring Subscriptions section to cancel your payment there.
If you subscribed with a credit card you can email your cancellation request to support@slader.com.
Textbooks, Solutions & Contributions
Why don't you have my textbook?
We are always trying to add new books to Slader. If we don't have your book you can request it here, and we will try to get it on the site as soon as we can!
Why don't you have solutions in my textbook?
All of our content is user-generated. Some solutions have not yet been solved by our users.
Can anyone submit a solution?
Yes! If you have registered an account and are signed in you can submit a textbook solution or ask a question.
What is an ISBN?
An ISBN is a book's unique identifying number. This number is 13-digits and is located above the bar code on the back cover of your textbook. It can also be found on the Edition Notice Page on one of the first pages of your textbook. The 13-digit ISBN looks like this: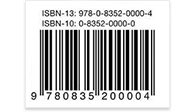 App
Does Slader have an app?
Yes! We have iOS and Android apps which you can download below.
Rating
What are the Star ratings?
A solution's star allows users to quickly identify high-quality solutions and solutions that need a bit more work. Give a solution a star rating. If it is an excellent solution and has helped you, give it 5 stars. Only give incorrect solutions 1 star ratings.
Also: be nice. Don't down-vote someone else's solution and up-vote yours just to earn the top spot when the other solution is a-okay. Common courtesy folks! If you notice someone abusing the rating system, please let us know at contributor@slader.com.
LaTeX
How do I LaTeX?
Check out our LaTeX guide here.
Academic Integrity
What if I think a solution is copied / stolen from somewhere else?
If you suspect a solution is stolen or copied from another source please report it to contributor@slader.com so we can investigate the issue.
What if a question is copied out of the textbook?
We do not allow any copyright material from a textbook to be reposted on Slader. Please notify us at contributor@slader.com if you see any copyright material posted.
I MUST CONTACT YOU.
Email support@slader.com. Sometimes we check our email.